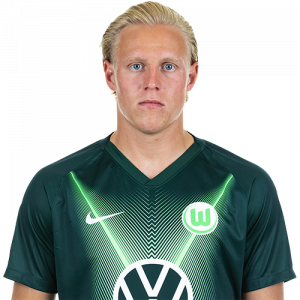 Xaver Schlager (born 28 September 1997) is an Austrian footballer who currently plays as midfielder for VfL Wolfsburg.
Professional career
After playing for the youth team of SC St. Valentin he joined the FC Red Bull Salzburg Academy in 2011, where he played in all teams. In 2015, he was transferred to FC Liefering, the farm team of FC Red Bull Salzburg.
During the 2017–18 season, Salzburg had their best ever European campaign. They finished top of their Europa League group, for a record fourth time, before beating Real Sociedad and Borussia Dortmund thus making their first ever appearance in the UEFA Europa League semi-final. On 3 May 2018, he played in the Europa League semi-finals as Olympique de Marseille beat RB Salzburg 3-2 on aggregate to secure a place in the 2018 UEFA Europa League Final.
VfL Wolfsburg
On the 26 June 2019, he signed for VfL Wolfsburg.