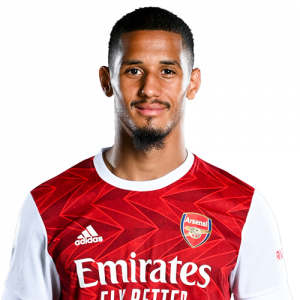 William Alain André Gabriel Saliba (born 24 March 2001) is a French professional footballer who plays as a defender for Premier League club Arsenal.
Saliba began playing football at the age of 6, coached by the father of Kylian Mbappé. He moved to Saint-Étienne in 2016. He signed his first contract at the age of 17, on 30 May 2018. Saliba made his professional debut with Saint-Étienne in a 3–2 Ligue 1 win over Toulouse on 25 September 2018. He made 13 starting appearances for the first season at Saint-Étienne.
On 25 July 2019, Arsenal announced that Saliba had signed a "long-term" contract with the club, and would join up with the team after staying on loan at Saint-Étienne for the 2019–20 season.