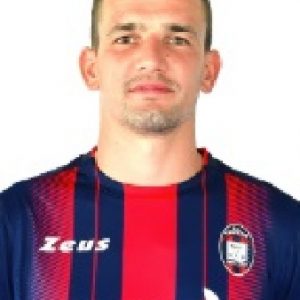 Vladimir Golemić (born 28 June 1991) is a Serbian professional footballer who plays as a defender for Italian club Crotone.
On 1 July 2016 he was bought outright for 150 thousand euros by the Swiss team of Lugano.
On 7 August 2018 he moved to Crotone. On 28 September 2018, on his seasonal debut with the Crotone shirt in Serie B against Brescia, he was sent off after only 9 minutes and caused the penalty that would take the Lombards ahead. On 11 August 2019, in the seasonal debut of the Pythagoreans, he scored his first goal with Crotone in the second round of the Italian Cup, in the match won against Arezzo 4-3, in which he scored the goal of the provisional 3-3 . On 20 October he scored his first goal in Serie B, in the draw at Pisa (1-1).  On 20 September 2020 he made his debut in the top flight with the Pythagoreans in Genoa-Crotone 4-1, while scoring his first goal in Serie A on 3 January 2021, in the 6-2 home defeat of Inter, making the provisional 2-2.