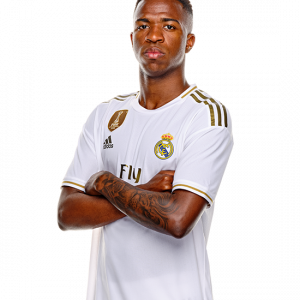 Vinícius José Paixão de Oliveira Júnior (born 12 July 2000), commonly known as Vinícius Júnior or Vini Jr., is a Brazilian professional footballer who plays as a winger for Spanish club Real Madrid and the Brazil national team.
Born in the São Gonçalo, Vinícius began his professional career at Flamengo, where he made his senior debut in 2017, at age 16. A few weeks later, Vinícius was the subject of a transfer to La Liga club Real Madrid, for whom he signed for in a national record for an U-18 player, R$191 million (€45 million) deal, which was made effective after his 18th birthday.
On 23 May 2017, Spanish club Real Madrid signed a contract to acquire Vinícius, effective after his 18th birthday on 12 July 2018 (as age 18 is the minimum age for international transfer). He transferred for a reported fee of €46 million, which was at the time, the second most expensive sale of a player in the history of Brazilian football (behind only Neymar), the largest amount received by a Brazilian club for a transfer, and the highest amount ever paid by a club for a footballer under the age of 19. He was originally scheduled to return to Brazil on loan in July 2018.
On 20 July 2018, Madrid officially presented Vinícius as a Real Madrid player. He was issued squad number 28. He made his debut on 29 September 2018, coming in as an 87th minute substitute in a goalless draw against Atlético Madrid, becoming the first-ever Madrid senior player to be born in 2000. Vinícius made his first start on 31 October in a 4–0 Copa del Rey away victory against Melilla, contributing with an assist for both Marco Asensio and Álvaro Odriozola in what Marca recognised as a Man of the Match performance. He scored his first goal on 3 November 10 minutes after coming on as a substitute in a 2–0 victory against Real Valladolid. He scored 4 goals between his debut on 29 September 2018 and 7 February 2019. Vinicius joined a Real Madrid team that was going through a transition, as it went through three different managers in his first season. It was under manager Santiago Solari that he seemed to be most impactful. That was until a ruptured knee ligament ended his season immediately.
On 11 December 2019, he scored his first UEFA Champions League goal in a 3–1 away win over Club Brugge in the 2019–20 season. On 1 March 2020, he scored the first goal in a 2–0 win for Real in El Clásico against Barcelona. He made 29 appearances during the league season, while scoring three goals, as Real Madrid won the 2019–20 La Liga.
On 6 April 2021, Vinícius scored two goals in a 3–1 win against Liverpool in the first leg of the 2020–21 UEFA Champions League quarter finals.