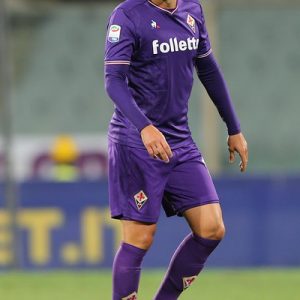 Valentin Eysseric (born 25 March 1992) is a French professional footballer who plays for Serie A club Fiorentina. He plays as an attacking midfielder.
Monaco
Eysseric began his career playing for a host of youth clubs before settling at Monaco in 2007. In June 2010, he signed a three-year élite contract, which was due to become a professional contract in June 2013, with the club. In the following season, he was a member of the Monaco under-19 team which won the 2010–11 edition of the Coupe Gambardella. He made his professional debut in Monaco's first competitive fixture of the 2011–12 campaign, a 4–1 loss to Sedan in the Coupe de la Ligue.
Fiorentina
On 9 August 2017, Eysseric signed with Serie A club Fiorentina on a four-year deal. Fiorentina paid a reported transfer fee of €4 million to Nice.
Nantes loan
On 31 January 2019, the last day of the 2018–19 winter transfer window, Eysseric returned to France joining FC Nantes on a loan deal until the end of the season. Nantes also secured an purchase option to make the signing permanent.[16]
Hellas Verona loan
On 31 January 2020, Eysseric joined Hellas Verona on loan until 30 June 2020.