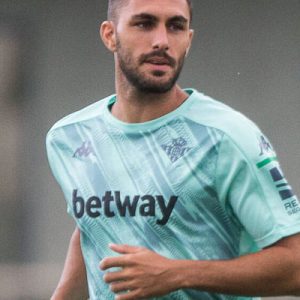 Víctor Ruiz Torre (born 25 January 1989) is a Spanish professional footballer who plays for Real Betis as a central defender.
Espanyol
Born in Esplugues de Llobregat, Barcelona, Catalonia, Ruiz arrived in RCD Espanyol's youth system in 2006 at the age of 17, from neighbouring UE Cornellà. In the 2008–09 season he made his senior debut, helping the reserve side win their Tercera División group and subsequently promote in the playoffs.
Napoli and Valencia
In 2010–11, Ruiz played all the minutes for Espanyol in the first 15 rounds. On 31 January 2011, he was sold to S.S.C. Napoli for €6 million cash in a four-and-a-half-year contract, with the Italians also ceding the sporting rights to Jesús Dátolo who was playing with the Spaniards on loan. Ruiz returned to his country on 30 August 2011, after signing a five-year deal with Valencia CF for €8 million. He made his official debut on 10 September, playing the full 90 minutes in a 1–0 home victory over Atlético Madrid.
Villarreal
On 1 July 2015, following a one-year loan there, Ruiz transferred to Villarreal CF also in the Valencian Community for an initial €2.7 million, potentially rising to €3 million.
Beşiktaş and Betis
On 7 August 2019, Ruiz joined Beşiktaş J.K. on a three-year contract. He returned to the Spanish top flight one year later, however, with the free agent signing a one-year deal with Betis. On 4 June 2021, Betis announced he extended his contract with them for two more seasons, until 2023.