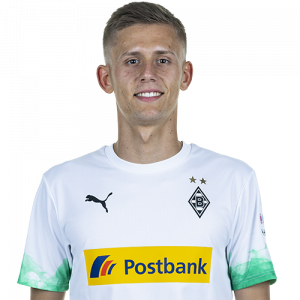 Torben Müsel (born 25 July 1999) is a German professional footballer who plays as a forward for Borussia Mönchengladbach.
Müsel grew up in Colgenstein-Heidesheim near Bad Dürkheim in the Palatinate. He started playing football in the neighboring village at SV Obersülzen. In 2006 he switched to the youth team at 1. FC Kaiserslautern, where he signed his first professional contract for the 2017/18 season. Müsel made his professional debut on September 25, 2017 in the 4-0 away defeat against 1. FC Union Berlin. He was in the starting line-up for the first time on December 16, 2017 in the home game against 1. FC Nürnberg, which ended 1-1. He didn't score a goal for the professionals.
After the relegation of FCK to the 3rd soccer league, Müsel moved to Bundesliga club Borussia Mönchengladbach for the following season 2018/19. Here he was only used in the second team in his first season and played 30 games in the Regionalliga West. Müsel celebrated his first appearance in the Bundesliga on June 20, 2020 when he was substituted on the 33rd matchday in the away game at SC Paderborn shortly before the end.