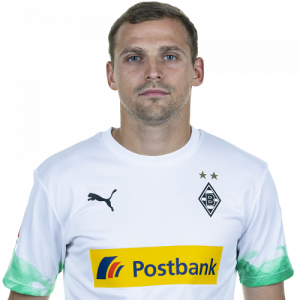 Tony Jantschke (born 7 April 1990) is a German professional footballer who plays as a defender for Borussia Mönchengladbach in the Bundesliga.
The 1.77 m tall midfielder began his career at Hoyerswerdaer SV Einheit and FV Dresden-Nord before moving to Borussia Mönchengladbach in 2006. There he was used in the youth and in the second team and lived in the club's youth boarding school for almost two years. On November 29, 2008 he made his debut under coach Hans Meyer in the Bundesliga in the 1: 3 home defeat against Energie Cottbus, when he came on for Gal Alberman in the 46th minute. In the game against Bayer 04 Leverkusen (1: 3) on December 6, 2008, in which he played for the entire 90 minutes, he scored his first Bundesliga goal. At 18 years and 243 days he is Borussia's third youngest goalscorer in the Bundesliga behind Marco Villa and Rainer Bonhof.
On January 1, 2009, Jantschke signed a professional contract that was initially dated to the end of June 2012 and was later extended to 2018. At the beginning of the 2010/11 season he was injured on September 12, 2010 in the regional league match between the second team against SC Wiedenbrück 2000 and after a fracture of his left metatarsus he missed almost the entire first half of the season.
Jantschke, who was initially used in Mönchengladbach under Hans Meyer in the position of defensive midfielder, but also played as a left or central defender, sees himself as a "defensive all-rounder". In the 2011/12 season, however, he was increasingly used as a right defender, with his former junior national coach being the first to let him play on the wing position in the defense. There he ousted the previously set Tobias Levels and earned himself a regular place on this defensive side. During the first half of the 2013/14 season after injuring the regular central defender, he was pulled from the full to the central defense and was used in this position for several games.
On April 20, 2017, Jantschke extended his contract in Mönchengladbach until 2021. In December 2020, he extended his contract to 2023. In addition, an agreement was concluded that Jantschke should take on a role in the club after his active career.