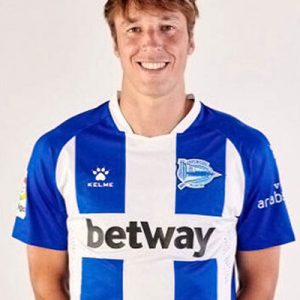 Tomás Pina Isla (born 14 October 1987) is a Spanish professional footballer who plays for Deportivo Alavés as a central midfielder.
Mallorca
Pina was born in Villarta de San Juan, Ciudad Real, Castile-La Mancha. After finishing his football formation with amateurs CD Móstoles, he moved to RCD Mallorca in the summer of 2008.
Pina made his professional – and La Liga – debut with the latter on 31 January 2010, playing the last ten minutes in a 1–2 away loss against Xerez CD after coming on as a substitute for Bruno China. He spent the vast majority of his first professional season with the reserve team, in the third division.
Villarreal
On 5 July 2013, after Mallorca's top-flight relegation, Pina signed a five-year deal with Villarreal CF, in turn promoted. He scored his first goal for his new team on 4 October, starting and netting the last in a 3–0 home win over Granada CF.
Pina was heavily played during his three-year spell at the Estadio El Madrigal by manager Marcelino Garcia Toral, whether as a starter or a replacement. In the 2015–16 campaign he appeared in 36 games across all competitions, his only goal helping oust S.S.C. Napoli from the UEFA Europa League as his 59th-minute long-range lob from the left flank earned a 1–1 away draw and a 2–1 aggregate victory in the round of 32.
Brugge and Alavés
On 4 July 2016, the 28-year-old Pina moved abroad for the first time in his career, joining Club Brugge KV from Belgium until 2020. On 7 August of the following year, he returned to Spain and its top tier after agreeing to a one-year loan deal with Deportivo Alavés with a buyout clause.
On 12 August 2018, Pina signed a permanent three-year contract with the Glorioso.