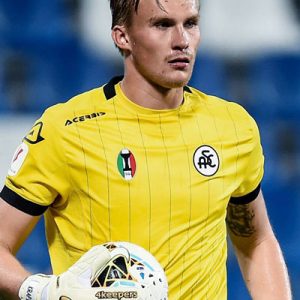 Titas Krapikas (born 3 January 1999) is a Lithuanian professional football who plays as a goalkeeper in Italy for Spezia.
Club career
Krapikas joined Italian club Sampdoria in 2015 and began playing for their Under-19 squad in the 2016–17 season. In the 2016–17 Serie A season, he also appeared on the bench for the senior squad on 22 occasions, but did not see time on the field. For the next two seasons, he mostly stayed with the junior squad, getting 11 call-ups to the senior team in total.
On 28 June 2019, he signed a three-year contract with an additional two-year extension option with Serie B club Spezia.
He made his Serie B debut for Spezia on 24 August 2019 in a game against Cittadella. He established himself as Spezia's first-choice goalkeeper early in the season.