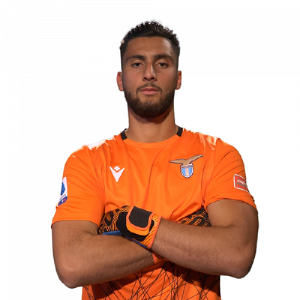 Thomas Fotaq Strakosha (born 19 March 1995) is an Albanian professional footballer who plays as a goalkeeper for Italian club Lazio and the Albania national team.
In July 2016, following the loan's end, Strakosha returned to Lazio. With the injury of Marchetti and the departure of Berisha to Atalanta, Strakosha was able to make his Lazio debut on 20 September in the league match against Milan. Despite the 2–0 defeat, Strakosha's performance was considered positive, being man of the match for Lazio. Five days later, Strakosha collected his first Serie A clean-sheet only in his second appearance in the 2–0 home win against Empoli, which led the 1982 FIFA World Cup-winner Dino Zoff to praise him by saying: "I can not judge him with only two matches played, but, according to me, he performed well in both matches."
On 22 February 2017, Strakosha renewed his contract with Lazio until 2022. He went on to play as starter until the end of the season, collecting 1844 minutes on field, as Lazio finished the championship in 5th position. He also contributed with 4 matches in the Coppa Italia, including the final, as Lazio was defeated by Juventus 2–0.
Strakosha started the 2017–18 season on 13 August 2017 by playing in the 2017 Supercoppa Italiana against Juventus, winning his maiden trophy as Lazio won 3–2 after a last-minute goal. Against the same opponent on 14 October, Strakosha saved Paulo Dybala's penalty in the 97th minute to rescue a 1–2 win for his team and to put Lazio in 3rd position. It was Strakosha's first Serie A penalty save and Juventus' first Serie A home defeat since August 2015. A week later, he agreed a contract extension, signing until June 2022. Later, he was named as the best young goalkeeper of the 2017–18 season.