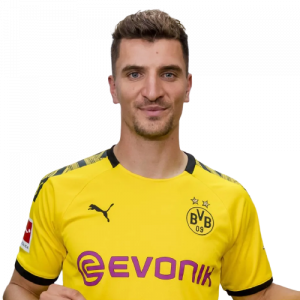 Thomas Meunier (born 12 September 1991) is a Belgian professional footballer who plays as a right back for Borussia Dortmund and the Belgium national team.
2018–19, 2019–20 seasons
On 18 September 2018, Meunier scored a goal in a 2–3 loss to Liverpool in 2018–19 UEFA Champions League group stage. On 6 March 2019, he came on as a substitute in a 1–3 loss to Manchester United, in which Paris Saint-Germain were eliminated from the Champions League round of 16 on away goals.
In the 2019–20 UEFA Champions League group stage, he scored a goal in a 3–0 win over Real Madrid on 18 September 2019. On 4 March 2020, he played his last match with Paris Saint-Germain in a 5–1 win over Lyon in the 2019–20 Coupe de France semi-final.
Borussia Dortmund
On 25 June 2020, it was announced that Meunier would be joining Borussia Dortmund from PSG on a four-year deal as a free agent.