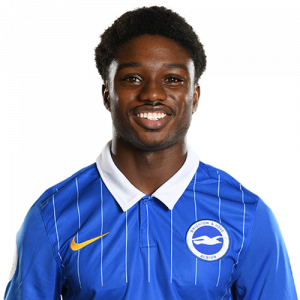 Tariq Kwame Nii-Lante Lamptey (born 30 September 2000) is an English professional footballer who plays predominantly as a right wing-back for Premier League club Brighton & Hove Albion and the England national under-21 team.
On 31 January 2020, the winter transfer deadline day, Lamptey completed a permanent transfer to Brighton & Hove Albion, signing a three and a half year deal. He made an impressive debut for The Seagulls in his first Premier League start, a 0–0 away draw against Leicester City on 23 June – Brighton's second match back from the Premier League's temporary break due to the COVID-19 pandemic.
Lamptey started in The Seagulls' opening match of the 2020–21 season against his former club Chelsea in which he set up Leandro Trossard's goal in a 3–1 home defeat. He scored his first ever senior goal on 1 November in a 2–1 Premier League defeat at Tottenham Hotspur. Lamptey was sent off for the first time in his career on 21 November after receiving two yellow cards in the 2–1 away victory against Aston Villa.
On 17 January 2021, Lamptey signed a new three and a half year contract extension. On 12 March, after being sidelined since picking up an hamstring injury in a 0–0 away draw against Fulham on 16 December 2020 it was announced that Lamptey would miss the reminder of the season due to the injury.