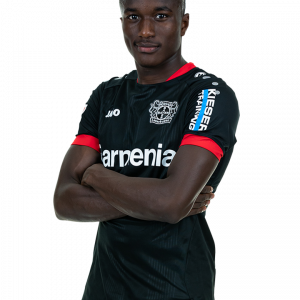 anguy-Austin Nianzou Kouassi (born 7 June 2002) is a French professional footballer who plays as a centre-back for Bundesliga club Bayern Munich.
Paris Saint-Germain
An academy graduate of Paris Saint-Germain, Nianzou made his professional debut on 7 December 2019 in a 3–1 league win against Montpellier. A few days later, he played in his first UEFA Champions League match as PSG were victorious 5–0 over Galatasaray.
He scored his first goal in a 3–0 Coupe de France win against Reims on 22 January 2020. This goal Nianzou scored was the 4,000th goal in PSG's history. He scored his first two Ligue 1 goals in an away game that ended in a 4–4 draw against Amiens on 15 February 2020.
On 11 March 2020, Nianzou played his final match for PSG, a 2–0 UEFA Champions League victory over Borussia Dortmund. He left the Parisian club upon the expiration of his contract, and signed for Bayern Munich on a free transfer.
Bayern Munich
On 1 July 2020, Bundesliga club Bayern Munich announced the signing of Nianzou on a four-year deal. He made his debut in a 3–1 league win against VfB Stuttgart on 28 November 2020. On 12 December 2020, Nianzou suffered a muscle injury, and was ruled out for one to two months of football. The injury was lingering from a previous injury that occurred at the beginning of the 2020–21 season.