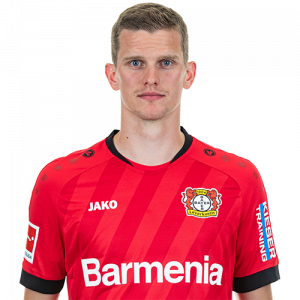 Sven Bender (born 27 April 1989) is a German footballer who plays as a central defender and defensive midfielder for Bundesliga club Bayer Leverkusen and Germany national team. He was raised in Brannenburg and started his football career playing for TSV Brannenburg. Sven is the twin brother of Lars Bender.
Early career
Bender played from 1993 to 1999 in the youth of the TSV Brannenburg. From 1999 to 2002, he was part of SpVgg Unterhaching youth teams. In summer 2002, Bender moved to the 1860 München youth team.
1860 Munich
He started his football career on the U-14 team and played for all of 1860 München's youth teams in three years. In November 2007, Bender extended his contract with the club until 2011. In 2009, Munich had to sell both Lars and Sven Bender, due to club's financial problem.
Borussia Dortmund
Bender made his Bundesliga debut on 19 September 2009 in a game against Hannover 96. His biggest rival for the spot in the defensive midfield suffered several injuries and Bender established himself in the starting eleven very quickly. He scored his first Bundesliga goal on 12 February 2011 against 1. FC Kaiserslautern and extended his contract until 2017.
Bayer Leverkusen
On 13 July 2017, Bender ended his eight-year tenure at Borussia Dortmund, signing a four-year contract with Bayer Leverkusen until 2021. Both the brothers announced retirement from football after the end of the 20/21 season.