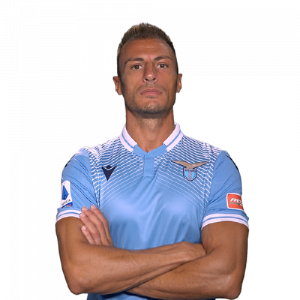 Ștefan Daniel Radu (born 22 October 1986) is a professional footballer who plays as a left-back or centre-back for Italian club Lazio.
After three seasons in his home country with Dinamo București in which he earned three domestic honours, including the national title, Radu was transferred to Lazio in 2008. He has since spent the rest of his career at the Italian side, becoming captain in 2011 and winning three Coppa Italia and Supercoppa Italiana trophies each.
Radu represented the Romania national team thirteen times between 2006 and 2013, after which he announced his early retirement. Radu is currently leading Lazio's all-time appearances in all competitions.
In January 2008, Italian Serie A side Lazio signed Radu on a €1 million loan deal until the end of the 2007–08 season. Shortly after joining the squad, he made his Lazio debut in a Coppa Italia match against Fiorentina. He was a revelation for Delio Rossi's team, as the young starlet added extra quality to the backline and started all the matches he featured in. At the end of the season, Radu signed with Lazio permanently for a €3.5 million transfer fee.
On 17 June 2011, Radu signed a five-year contract extension. He became an important player for Lazio, a team which he captained during the 2011–12 season. Radu won his third trophy with Lazio in the 2012–13 season when they defeated rivals Roma in the Coppa Italia final. In 2017, Lazio won the Supercoppa Italiana, as they beat Juventus 3–2. On 15 May 2019, Lazio beat Atalanta in the 2018–19 Coppa Italia final. On 22 December 2019, Lazio beat Juventus in the 2019 Supercoppa Italiana, with help from Radu.