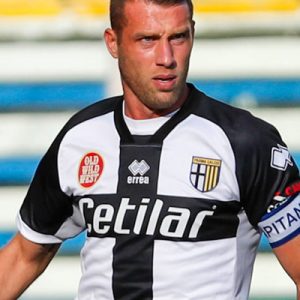 Simone Iacoponi (born 30 April 1987) is an Italian professional footballer who plays for Parma as a defender.
In the 2006-2007 season he made his debut in Serie A with the Empoli shirt, with which he played a game; the following year he was still part of the squad of the Tuscan team, with whom he did not play any league games, instead playing a match in the UEFA Cup. In the 2008-2009 season he was first loaned to Monza (in Lega Pro Prima Divisione) and, after playing 3 games with Brianza, from January 2009 to Cuoiopelli, in Lega Pro Second Division. After these loans he returned to Empoli, where in the 2009-2010 season he made his debut in Serie B, playing 6 games in the junior league. In the 2010-2011 season he played as a starter in the First Division with Foligno, with whom he also scored his first career goal in professional leagues. From 2011 to January 2014 he plays in Südtirol, always in the First Division, and then moves to Entella with which he wins the championship by winning promotion to Serie B. In the 2014-2015 season he plays in Serie B with the biancocelesti scoring 2 goals in 40 appearances in the league and playing 2 further games in the play-outs against Modena, at the end of which the Ligurian team relegated to Lega Pro. In August he was forced to have an operation on his external meniscus. He is back on the field as early as 22 September 2015 during Entella-Cagliari 1-3 but at the beginning of October in training he gets a second degree injury at the level of the myotendinous junction of the medial twin for which he is forced to stop for a month. This season he played 29 games and scored 2 goals while in the following season he played 25 games between Serie B and Coppa Italia, reaching 100 appearances with Entella. Overall with the Biancocelesti in 3 years he has put together 111 appearances and 6 goals between the league and the Italian Cup.
On January 31, 2017 he was transferred to Parma, in Lega Pro;  with the Emilians he immediately became a defensive player, and obtained promotion to Serie B at the end of the play-offs and, in the following season, promotion to Serie A thanks to the second place in the standings obtained in the Serie B championship.
In the top flight he is confirmed as a starter, playing all 38 games of the ducals, who at the end of the year reach salvation,  being used both as a right-back and as a central defender.
On 24 November 2019 he scored his first Serie A goal in the Bologna-Parma match, which ended 2-2.