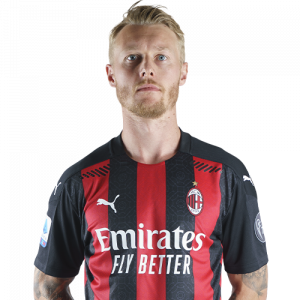 Simon Thorup Kjær (born 26 March 1989) is a Danish professional footballer who plays as a centre back for Italian club Milan and captains the Denmark national team.
He was named 2007 Danish under-19 talent of the year and 2009 Danish Talent of the Year. Kjær has played more than 100 games for Denmark, including participation at the 2010 FIFA World Cup, the UEFA Euro 2012 and the 2018 FIFA World Cup.
On 13 January 2020, Kjær signed with Milan on loan for the rest of the 2019–20 season, with the option to make the transfer permanent for an undisclosed sum. He had been linked with the club in the late 2000s and early 2010s during his time with Palermo and even praised in the media by then-current Milan's head coach Carlo Ancelotti yet the move eventually broke down as two clubs failed to agree on his transfer fee. On 15 January 2020, Kjær made his debut for the club, playing for 82 minutes in a home 3–0 win against S.P.A.L. in the round of 16 of the Coppa Italia. Four days later, he played his first game in Serie A as a Milan player in a dramatic 3–2 home win against Udinese. After missing one match due to illness, Kjær returned to the starting line–up, playing in the centre–back position, losing 4–2 against rivals, Inter Milan on 9 February 2020. However, his return was short–lived when he torn his muscle injury and was substituted in the 44th minute, in a 1–0 win against Torino on 17 February 2020. After the match, it was announced that Kjær would be out of action for a few months. Due to the COVID-19 pandemic which resulted in the suspension of League matches, he managed to recover from his injury and returned to the starting line–up in the second leg of the Coppa Italia semi–finals against Juventus; the club drew 0–0, resulting in Milan's elimination from the tournament. In his debut season under head coach Stefano Pioli, Kjær would compete with other central defenders, namely Mateo Musacchio, Léo Duarte, and Matteo Gabbia, for a starting line-up spot in the team's back four alongside left central defender and captain Alessio Romagnoli. He would make 11 more appearances for Milan (9 in Serie A and 4 in Coppa Italia) before the club bought him out from Sevilla for €3.5 million on 15 July 2020, the expiry date of the buy-out clause in his loan deal.
On 15 July 2020, Kjær signed a permanent deal with Milan until 30 June 2022. On 11 March 2021, Kjær scored his first goal for the Rossoneri in a 1–1 away draw against Manchester United in the first leg of the Europa League round of 16 tie.