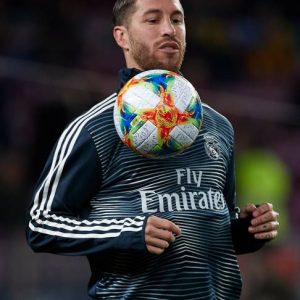 Sergio Ramos García (born 30 March 1986) is a Spanish professional footballer who most recently played as a centre-back for Real Madrid, whom he captained, and is the captain of the Spain national team.
He also played as a right-back earlier in his career.
After emerging through Sevilla's youth academy and spending two seasons with the senior side, Ramos moved to Real Madrid in the summer of 2005. Since then, he went on to become a mainstay for Real Madrid, and had won 22 major honours, including five La Liga titles and four UEFA Champions League titles, becoming one of La Liga's top goalscorers from a defensive position. He played a crucial part in the build-up to all four UEFA Champions League wins, being named in the competition Squad of the Season each time. He also notably scored the equaliser in the 93rd minute of the 2014 UEFA Champions League Final.
Ramos has been named to the FIFPro World11 eleven times; a record for a defender, and the third-most all-time. He has also been elected to the UEFA Team of the Year nine times, also a record for a defender and the third-most of any player. Additionally, Ramos has been named La Liga's Best Defender a record five times, and to the La Liga Team of the Season in 2015–16. In June 2021, Real Madrid announced that Ramos would leave the club.
Internationally, Ramos represented the Spanish national team at four World Cups and three European Championships. He won the 2010 FIFA World Cup and the UEFA European Championship in 2008 and 2012, being named to the FIFA World Cup Dream Team in 2010, and the UEFA Euro Team of the Tournament in 2012. He made his first appearance for Spain at the age of 18 and, in 2013, he became the nation's youngest player to ever reach 100 caps. Ramos currently holds the record as the most capped player in the history of the Spanish national team, and is his country's eighth-highest all-time goalscorer. He also holds the record of most international victories for Spain with 131 matches won.
On 16 June, Real Madrid announced that Ramos would leave the club after 16 years. During his farewell event on the next day, Ramos who initially asked for a two-year offer mentioned that he accepted a one-year contract renewal with a salary reduction; however, the offer had expired without his knowledge.