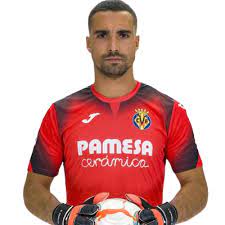 Sergio Asenjo Andrés (born 28 June 1989) is a Spanish professional footballer who plays for Villarreal as a goalkeeper.
His footballing career began with Valladolid, where he made 49 senior appearances. He then moved to Atlético Madrid in 2009 and spent five seasons with the club, during which he was also loaned to Málaga and Villarreal before joining the latter on a permanent deal in 2014.
Asenjo is also a full Spanish international, having made his senior debut in 2016, and previously represented the nation at various youth levels.
With his game time limited in Madrid, Asenjo agreed to a one-year loan deal with Villarreal in July 2013 with the club retaining a buyout option at the end of the season.[ He excelled during his first year, missing only three league matches and keeping nine clean sheets as the side qualified for the play-off round of the UEFA Europa League. The ensuing summer, he signed a permanent five-year contract.
Asenjo retained his starting spot throughout the 2014–15 campaign but, on 29 April 2015, in the dying minutes of a 1–0 loss to former side Atlético, he tore his ACL for a third time while attempting to make a save. After an excruciating rehabilitation process, he made his return to the squad on 23 February 2016 when he was named on the bench by Marcelino García Toral for the Europa League fixture against Italy's S.S.C. Napoli. The following month, and in the same competition, he played his first game in nearly 11 months and kept a clean sheet in a 0–0 draw (2–0 aggregate win) at Bayer 04 Leverkusen.
Asenjo, who reclaimed his starting position following his recovery, signed a new contract in December 2016 to last until 2022. The following 26 February, during the first half of a league home match against Real Madrid, he suffered a ruptured anterior cruciate ligament for a fourth time, this time in his left knee– prior to the misfortune, he had conceded the fewest goals in the league and had kept 11 clean sheets. He spent nine months on the sidelines as a result of the injury, before making his return in November 2017 in a Copa del Rey encounter against SD Ponferradina.
In 2020–21, under new manager Unai Emery, Asenjo retained his place as a starter in the league season, while Gerónimo Rulli was preferred for the victorious Europa League campaign. He made one appearance on the European front, the last-16 second leg at home to FC Dynamo Kyiv which his team won 2–0 on 18 March.