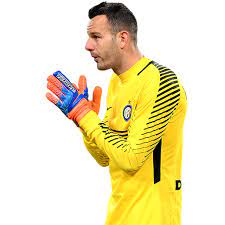 Samir Handanović (born 14 July 1984) is a Slovenian professional footballer who serves as captain and plays as a goalkeeper for Italian club Inter Milan.
Before moving to Italy, Handanović played in his home country of Slovenia. In 2004, he was acquired by Udinese, but spent the next few years on loan, playing for teams such as Treviso, Lazio and Rimini. Handanović returned to Udinese ahead of 2007–08 season, where he played as a starter for the next five years. In the next season, he also played European football for the first time, making his debut in then UEFA Cup. After five years as starter and more than 200 appearances, Handanović joined Inter Milan in July 2012 for around €19.4m. In February 2019, he was named club captain, while in September, he made his 300th appearance for the club, and subsequently went on to reach the 2020 UEFA Europa League Final that season. He made his 500th Serie A appearance in February 2021, and won his first trophy that May by winning the title.
Having previously represented the Slovenian under-21 team, Handanović made his senior international debut for Slovenia in 2004. He went on to earn 81 caps for his country, the second-most for Slovenia and most by a goalkeeper, and played for them at the 2010 FIFA World Cup.
Nicknamed Batman, due to his acrobatic saves, he is regarded as one of the best goalkeepers of his generation, and is one of only four non-Italian keepers to be named Serie A Goalkeeper of the Year, winning the honour three times. A penalty saving specialist, during the 2010–11 Serie A season he saved a total of six penalty kicks, equalling an all-time league record set in the 1948–49 season. During the 2019–20 season, he equalled Gianluca Pagliuca's record of most penalties saved in Serie A with his 24th stop. The following season, he broke the record.