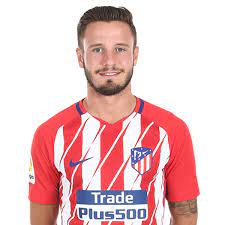 Saúl Ñíguez Esclápez (born 21 November 1994), known as Saúl, is a Spanish professional footballer who plays as a central or defensive midfielder for Atlético Madrid and the Spain national team.
After coming through Atlético Madrid's youth academy, he went on to appear in more than 300 competitive matches for the club. In the 2013–14 season, he was on loan at Rayo Vallecano also in La Liga.
Having represented Spain at various youth levels, Saúl helped the under-21 team finish second in the 2017 European Championship, being top scorer in the process. He was selected by the senior side to the 2018 World Cup.
On 1 July 2017, Saúl signed a new nine-year contract. He made nine appearances in the campaign's Europa League, scoring three goals for the eventual champions.
Saúl started his 250th match for the club on 18 August 2019, in a win over Getafe CF. In the season's Supercopa de España final against Real Madrid, ended 0–0 after extra time, both he and Thomas Partey missed their shoot-out attempts in a 4–1 defeat.
On 18 February 2020, Saúl scored from close range in the fourth minute of the Champions League's round-of-16 first leg – his tenth goal in the competition– against defending champions Liverpool to ensure a 1–0 home win for the hosts. He also featured in the second leg at Anfield, playing the entire 3–2 extra-time victory.
On 30 June 2020, Saúl netted twice from penalties in a 2–2 draw away to FC Barcelona, as Atlético managed that number of goals against that opposition in a league match for the first time under Simeone.