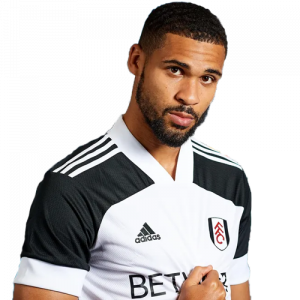 Ruben Ira Loftus-Cheek (born 23 January 1996) is an English professional footballer who plays as a midfielder for Premier League club Fulham, on loan from Chelsea, and the English national team.
Chelsea
Loftus-Cheek joined Chelsea at the age of eight. He impressed at the beginning of the 2011–12 season before picking up a hip injury, from which he recovered by the end of the season to make a substitute appearance in the 2012 FA Youth Cup final. In the 2012–13 season, Loftus-Cheek made 18 appearances for the U-18 squad and nine appearances for the U-21 squad, at the end of the season he was rewarded for his good form to travel with a place in the first-team squad for a post season friendly against Manchester City in May 2013. In 2013–14, Loftus-Cheek helped Chelsea win the FA Youth Cup and was a regular for the U21s as they won the Under-21 Premier League.
2020–21 season: Loan to Fulham
On 5 October 2020, Loftus-Cheek was loaned to Fulham for the remainder of the season. He made his club debut on 18 October 2020, in a 1–1 away draw against Sheffield United after he came off from the bench. On 22 November, Loftus-Cheek scored his first Premier League goal for the club in a 2–3 home defeat against Everton.
Style of play
After his first-team debut, Barney Ronay of The Guardian described Loftus-Cheek as an "intriguing" player of "long-striding grace" saying that with his "shielding, covering, deep-playmaking presence with a calmness in possession and a naturally telescopic reach" he would be a good fit for the senior England national team. Loftus-Cheek was compared to Germany great Michael Ballack by former Chelsea and England manager Glenn Hoddle, who said that: "He reminds me of Ballack – physically and the way he plays", and went on to say: "He gets in the box and he moves well off the ball." Following his first Premier League start of the 2015–16 season, Loftus-Cheek's Chelsea manager, José Mourinho, commented "He [Loftus-Cheek] is brilliant with the ball. He doesn't look 19 – he looks solid, stable and mature. But without the ball he doesn't look as good tactically." Liam Twomey of FourFourTwo described Loftus-Cheek as "an imposing box-to-box midfielder who combines a muscular 6ft 3in frame that enables him to dominate physically with startlingly polished technique and composure," also noting that "[h]e rarely makes a bad decision on the ball," and labelling him a "rare blend of natural physique and refined skill," whom he likened to Paul Pogba.
Throughout his career, Loftus-Cheek has been playing either as a central or attacking midfielder, but former Chelsea manager Antonio Conte stated that he sees Loftus-Cheek with the potential of a striker since he has "good technique, good personality and he is good one vs one."