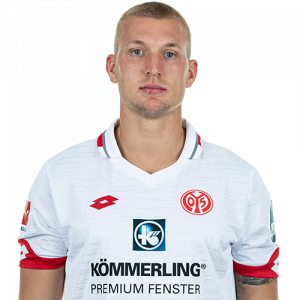 Robin Zentner (born 28 October 1994) is a German footballer who plays as a goalkeeper for Bundesliga side Mainz 05.
On 4 November 2017, Zentner went viral for an "air kick" after mistaking the penalty spot for the ball following a back-pass, which nearly resulted in a goal.
Until 2006, Zentner played for SpVgg Eltville and then joined the youth team of 1. FSV Mainz 05. From 2012 to 2015 he was active in the Mainz team. For the 2014/15 season he moved up as the third goalkeeper in the professional field. In August 2015 he was awarded for one year to the third division Holstein Kiel; the loan deal was extended for the 2016/17 season. For Holstein Kiel he was used 26 times in the 3rd division.
He returned to Mainz 05 for the 2017/18 season and played his first competitive game for the first team in October 2017. As a result, he alternated with Florian Müller as the goalkeeper of the professionals until he finally became the Mainz goalkeeper at the beginning of the first half of the 2019/20 season. On March 8, 2020, Zentner tore a cruciate ligament in a Bundesliga match without outside interference and was out for the rest of the season. Before the 2020/21 season he was again designated as the goalkeeper; Müller was awarded to SC Freiburg.
His contract with Mainz 05 runs until 2023.