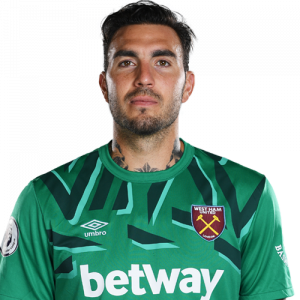 Roberto Jiménez Gago (born 10 February 1986), known simply as Roberto, is a Spanish professional footballer who plays as a goalkeeper for Real Valladolid.
He appeared in 128 La Liga matches over six seasons, for Atlético Madrid (two spells), Zaragoza (twice), Espanyol and Málaga. Abroad, he spent three years with Olympiacos where he won the Super League Greece in three consecutive seasons, and also played in Portugal with Benfica and England with West Ham United.
Roberto represented Spain at youth level.
Valladolid
In late August 2020, Roberto joined Real Valladolid on a free transfer and a three-year contract.