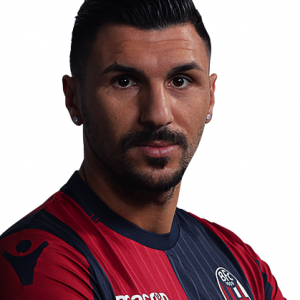 Roberto Soriano (born 8 February 1991) is an Italian professional footballer who plays as a midfielder for Bologna and the Italy national team.
Early career
Soriano was born in the German city of Darmstadt to a family from Sperone, Province of Avellino, Italy. He started his career with Bayern Munich after being spotted by their scouts in the 2007 Champions Youth Cup while playing for Die Roten.
Sampdoria
On 2 February 2009, Soriano moved to Italian club Sampdoria for an undisclosed fee. Soriano immediately entered Sampdoria's Primavera, or youth team, for the 2009 Torneo di Viareggio, where the Genoa based club finished as runners-up. In the 2009–10 season, Sampdoria were eliminated in the semi-finals at the Campionato Nazionale Primavera, in which Soriano played.
Empoli
In June 2010, he was loaned to Serie B side Empoli. Soriano made his club debut on 15 August 2010 in a friendly against Reggiana. Soriano was substituted by Gianluca Musacci during the second half. Empoli went on to win that match 4–1. He made his Serie B debut in Empoli's first Serie B match of the season as a defensive/holding midfielder along with Davide Moro. He was substituted for Mirko Valdifiori in the 66th minute. Empoli drew that game 1–1 against Frosinone. However, Empoli would win the away match 3–2. Soriano started from the bench in the next match, losing his starting spot to Gianluca Musacci. He returned to the starting XI in Empoli's 5th Serie B game of the season, and played as a central/defensive midfielder, a position he would be utilized in during the next 2 rounds (4–4–2 formation and 4–3–1–2 formation). On 11 December, he scored his first Serie B goal in the game against Portogruaro.
On 31 August 2015, Soriano signed a contract with Napoli worth €13.5m with Juan Camilo Zúñiga set to join Sampdoria as part of the deal, but the transfer fell through because Napoli did not deposit the contract with Lega Serie A before the 23:00 deadline. It is believed the delay was mainly due to disputes about image rights.
Villarreal
On 2 August 2016, Spanish club Villarreal CF and Sampdoria reached an agreement for the transfer of Soriano. He signed a five-year contract, for a reported fee of €14 million. Soriano made his club debut in a 1–1 away draw against Granada in La Liga, on 20 August.
Torino (loan)
On 17 August 2018, he joined Italian club Torino on loan with an option to buy.
Bologna (loan)
On 4 January 2019, he joined Italian club Bologna on loan with an option to buy.