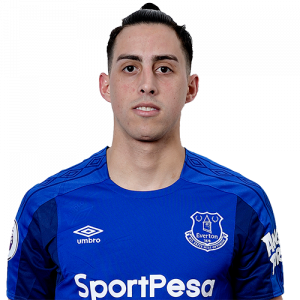 José Ramiro Funes Mori (born 5 March 1991) is an Argentine professional footballer who plays as a defender for Spanish club Villarreal and the Argentina national team.
He plays primarily as a centre-back but can also operate as a left-back and defensive midfielder.
River Plate
Funes Mori joined River Plate as a youth player, progressing to the senior team in 2011. He is considered a legend of the club because he won 6 professional titles (four of them international) including the 2015 Copa Libertadores. He made his debut for the Argentina national team whilst playing for River Plate. Funes Mori is remembered not only for his performances and titles, but also for scoring very important goals such as the third goal in the Copa Libertadores final and an iconic goal against Boca Juniors. He made a total of 108 appearances for River Plate across five seasons, scoring ten goals.
Everton
On 1 September 2015, Funes Mori joined Premier League club Everton for a fee of £9.5 million. He made his debut 11 days later, coming on as a substitute, in a 3–1 home win against Chelsea. He scored his first goal for Everton in a 3–3 draw with Bournemouth in November 2015. In his first season with the club, he received significant playing time at centre back due to injuries and lack of form for the expected starting pair of Phil Jagielka and John Stones. In April 2016, Funes Mori was sent off for a tackle on Divock Origi in a 4–0 loss to Liverpool, leading to a three-match suspension. He scored five goals across all competitions in his first season with the club.
Funes Mori was out for the remainder of the 2016–17 season after suffering a torn meniscus while on international duty with Argentina in March 2017. In the summer of 2017, Funes Mori had undergone a second operation on his knee injury in Barcelona and was looking at between six and nine months on the sidelines.
Villarreal
On 21 June 2018, Funes Mori joined La Liga club Villarreal for an undisclosed fee.