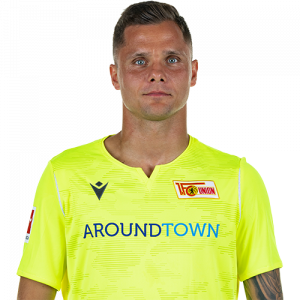 Rafał Gikiewicz (born 26 October 1987) is a Polish professional footballer who plays as a goalkeeper for FC Augsburg.
Gikiewicz was born in Olsztyn. In July 2008, he moved to Jagiellonia Białystok. In August 2010, he was loaned to OKS 1945 Olsztyn on a one-year deal. He returned to Jagiellonia Białystok half a year later.
In January 2011, he joined Śląsk Wrocław on 4.5-year contract.
In April 2014, German club Eintracht Braunschweig announced the signing of Gikiewicz for the 2014–15 season. In August 2016, Gikiewicz transferred to Freiburg.
In June 2018, Gikiewicz moved to Union Berlin signing a two-year contract. The transfer fee paid to Freiburg was reported as €200,000. On 7 October 2018, Gikiewicz scored a 94th-minute equalizer against 1. FC Heidenheim in the 2. Bundesliga. On 1 July 2020, he signed with Bundesliga club FC Augsburg.