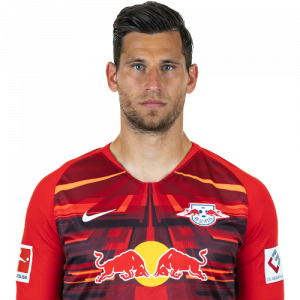 Philipp Tschauner (born 3 November 1985) is a German professional footballer who plays as a goalkeeper for RB Leipzig. During his career, he has played for 1. FC Nürnberg, 1860 Munich, FC St. Pauli, Hannover 96 and FC Ingolstadt. Tschauner has played internationally for Germany nine times at under-20 and once at the under-21 level.
SV 1860 Munich
In the summer of 2006 he moved to 1860 Munich, where he signed a three-year contract. During the 2006/07 season he served as the Regionalliga Süd U23 Lions goalkeeper, and made five appearances in the second division team of 1860 Munich, where he twice replaced Michael Hofmann, who had been injured.
FC St. Pauli
For the 2011–12 season Tschauner joined FC St. Pauli, where he signed a contract until 2013. There, he became an instant goalkeeper and took part in all 19 league games until in the last game before the winter break—a 2: 0 win over Eintracht Frankfurt—he sustained an acromioclavicular injury, which made him unfit to play for several weeks.
On 1 April 2013, during the 27th round of the Bundesliga 2, Tschauner scored in the 90th minute of the 2:2 final against SC Paderborn 07 with a header after a corner kick from midfielder Dennis Daube.
Hannover 96
On 14 May 2015 Tschauner signed a contract with the Bundesliga club Hannover 96.
On 2 January 2019, It was announced that he would join FC Ingolstadt on loan until the end of 2018–19 season.
RB Leipzig
On 30 July 2019, Tschauner joined RB Leipzig on a two-year contract.