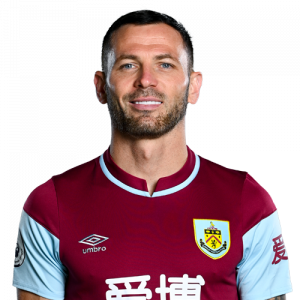 Phillip Anthony Bardsley (born 28 June 1985) is a professional footballer who plays for Premier League club Burnley and he has represented the Scotland national team.
Bardsley began his career with Manchester United where he made 18 appearances in five seasons at the club. During that time, he was loaned to several clubs, including Royal Antwerp, Burnley, Rangers, Aston Villa and Sheffield United.
He joined Sunderland in January 2008 for an initial fee of £850,000. Bardsley established himself as a regular at the Stadium of Light under Steve Bruce and Martin O'Neill and he won the player of the year award in 2010–11. He lost his place in the team in 2012–13 after a falling-out with manager Paolo Di Canio, before returning to the first team under Gus Poyet. Under Poyet, Bardsley helped Sunderland to avoid relegation in 2013–14 and reach the 2014 Football League Cup Final, in which they lost 3–1 to Manchester City.
After his Sunderland contract expired in June 2014, Bardsley joined Stoke City on a free transfer. He spent three seasons with the club before joining Burnley in July 2017.
On 25 July 2017, Bardsley completed a transfer to Premier League club Burnley, signing a two-year contract.
On 7 March 2021, Bardsley agreed a new one-year contract with Burnley, keeping him at the club until the summer of 2022.
Bardsley plays at right back and describes himself as a modern full-back.— "Since I started playing professionally, the game has changed and you have to be really, really fit because a full-back is expected to get up and down the pitch. I like to defend and be aggressive, but also get forward to create chances and create goals, it's all part of being a modern-day full-back."