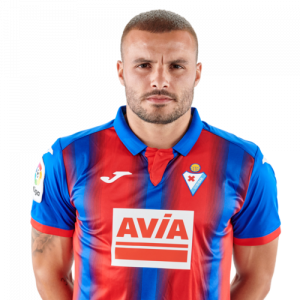 Pedro León Sánchez Gil (born 24 November 1986), known as León, is a Spanish professional footballer who plays for SD Eibar as a right winger.
After making a name for himself at Valladolid and Getafe, he transferred to Real Madrid in 2010. He left after a sole season troubled by problems with the management, going on to represent Getafe and Eibar also in La Liga and make 346 appearances in the competition (43 goals scored).
A Spanish under-21 international, León represented the nation at the 2009 European Championship.
Murcia
Born in Mula, Region of Murcia, León began playing with local Muleño CF and Nueva Vanguardia's youth teams, eventually moving in early 2004 to Real Murcia to finish his youth career.
Valladolid and Getafe
On 13 September 2008, Real Valladolid bought León for €300,000 after a quick negotiation. Soon becoming first choice, he provided his first assist for Fabián Canobbio on 15 November in a 1–0 home victory over Real Madrid, netting his first for the club a week later in a 3–0 away defeat of Villarreal CF.
Real Madrid
On 15 July 2010, Real Madrid confirmed the transfer of León for €10 million. The player passed the pertinent medical test and was presented the following day. He made his debut on 4 August in a friendly with Club América, playing the full match in a 3–2 win. In his second appearance, four days later, he scored against the LA Galaxy as the match ended with the same score.
Getafe return
At the end of the 2011 summer transfer window, León returned to former club Getafe on a season-long loan. He scored the first goal of his second spell on 1 October, with a spectacular long-range strike at Málaga CF in a 3–2 loss.
Eibar
On 5 July 2016, after Getafe's relegation, León signed a two-year deal with SD Eibar also in the top flight. He scored a career-best ten goals in his first season – only behind Sergi Enrich's 11 in the squad– but missed the vast majority of the following after replapsing from a left-knee injury.