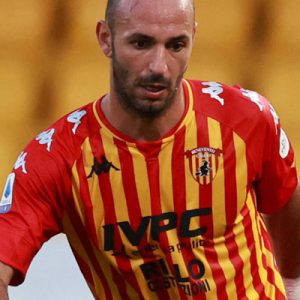 Pasquale Schiattarella (born 19 October 1987) is an Italian footballer who plays for Serie A club Benevento, as a midfielder.
Born in Mugnano di Napoli, Schiattarella started his career at Torino Calcio. Due to financial difficulty, the team originally promoted to Serie A in 2005 was expelled, and a new entity, Torino FC, was formed and re-admitted to 2005–06 Serie B, however, the contract with the old entity became void and Schiattarella was signed by Sampdoria along with Paolo Castellazzi instead of signing a new contract with the new company. However, in January 2006 he returned to Torino F.C.. Arguably his best goal was scored from a distance of 40m, a shot that won the match.
After A.C. Ancona went bankrupt, he left for Livorno on a free transfer in 2010.
On 14 January 2014, Schiattarella was signed by Spezia for €700,000 transfer fee.
On 29 July 2019, he signed a 3-year contract with Benevento.