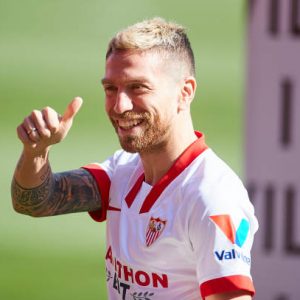 Alejandro Darío Gómez (born 15 February 1988), known as Papu Gómez, is an Argentine professional footballer who plays as a forward, winger or attacking midfielder for Spanish club Sevilla and the Argentina national team.
Gómez started his club career in his home country with Arsenal de Sarandí, before joining San Lorenzo in 2009. The following year, he was signed by Italian club Catania. In 2013, he joined Ukrainian side Metalist Kharkiv, where he remained for a single season, before returning to Italy to play for Atalanta. In 2019–20, Gómez set the Serie A record for most assists in a single season with sixteen, and was named to the Serie A Team of the Year.
Although he was born in Argentina, Gómez is a dual citizen of Argentina and Italy, having gained Italian citizenship on 14 May 2016, as his wife is an Italian citizen. He made his senior international debut for Argentina in a friendly against Singapore in 2017, during which he also scored his first international goal. He later took part at the 2021 Copa América.
Metalist Kharkiv
Rebuffing offers from several big clubs, including Atletico Madrid, Fiorentina, and Inter Milan, Gómez himself requested a transfer to little-known Metalist Kharkiv of the Ukrainian Premier League, citing the Club's commitment to growth and the opportunity to play in the upcoming UEFA Champions League as his reasons. On 2 August 2013, he signed four-year contract with the club, which included a €12 million release clause, following a €7 million transfer fee. However, things did not go well for him with the side from the beginning.
Sevilla
On 26 January 2021, La Liga club Sevilla announced the signing of Gómez on a deal running until June 2024. He made his debut for the club on 2 February, playing 60 minutes of Sevilla's 1–0 victory against Almería in the Copa del Rey. Four days later, he scored his first Sevilla goal in a 3–0 win over Getafe.