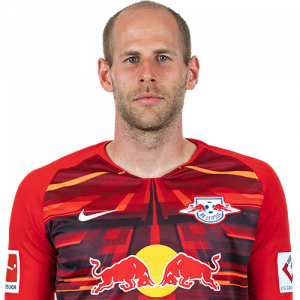 Péter Gulácsi (born 6 May 1990) is a Hungarian footballer who plays as a goalkeeper for German club RB Leipzig and the Hungary national team.
On 1 July 2015, Gulácsi transferred to RB Leipzig, the sister club of Red Bull Salzburg, for a fee of 3 million pounds. He finished the 2015–16 season by making 15 appearances for the first team and two appearances in the Regionalliga Nordost for the reserve team.
On 17 December 2017, Gulácsi signed a new contract with RB Leipzig. His contract with the club would have expired in 2020 but he prolonged it by 2022. He finished the 2016–17 season with 34 appearances.
Gulácsi was selected as the best goalkeeper of the autumn part of the 2017–18 Bundesliga season by the German sport magazine Kicker. He finished the 2017–18 season with 47 appearances. According to leading German sports magazine kicker, Gulácsi performed best in the Bundesliga's 2018–19 season matchday ratings with an average score of 2.61 and 16 clean sheets.
In the 2019–20 season, Gulácsi made history by qualifying for the UEFA Champions League semi-finals, the first time ever for RB Leipzig.