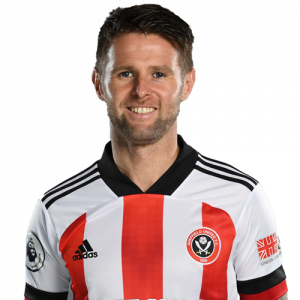 Oliver James Norwood (born 12 April 1991) is a professional footballer who plays as a midfielder for Premier League club Sheffield United.
Norwood began his career with Manchester United, and had loan spells at Carlisle United, Scunthorpe United and Coventry City before moving permanently to Huddersfield Town and then Reading. He then achieved three consecutive promotions to the Premier League with three clubs: Brighton, Fulham and Sheffield United between 2017–2019. Although he was born in England, and represented that country at under-17 level, he has represented Northern Ireland at every level from under-19 to the senior team.
On 1 January 2019 Norwood made his deal at Sheffield United permanent. In March 2019 he was selected to the 2018–19 Championship Team of the Season. On 28 April 2019 Norwood saw United promoted to the Premier League . On 10 June 2020 Norwood signed a new three year contract.
Norwood is a central midfielder, known for his passing and ability to dictate tempo. He is renowned as a free-kick and set piece specialist and for scoring goals from long range.