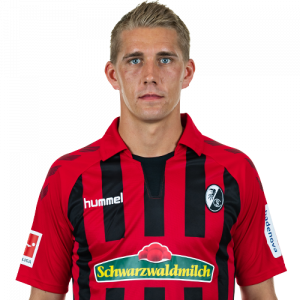 Nils Petersen (born 6 December 1988) is a German professional footballer who plays as a striker for SC Freiburg and the Germany national team. He appeared in the 2016 Summer Olympics and remains the first and only German footballer who has scored five goals in a single game with the national team.
Carl Zeiss Jena
In February 2005, Carl Zeiss Jena signed Petersen to a youth contract, before promoting him to the First Team in January 2007. Before promotion to the First Team, Petersen had already gained experience playing with the reserves playing in the Oberliga. Petersen made his professional debut on 4 February 2007 (20th matchday), in a 0–1 loss in an away match against 1. FC Köln. He entered the match in the 89th minute as a substitute for Mohammed El Berkani.
Energie Cottbus
On 6 January 2009, Petersen switched to Energie Cottbus. In his first season with the club, he made an appearance in the Bundesliga and the relegation playoff. He premiered for Cottbus on the final match-day of the season in a 3–0 home victory over Bayer Leverkusen, on 23 May 2009.
Bayern Munich
On 19 May 2011, FC Bayern Munich reported the signing of Petersen to a three-year contract until 30 June 2014. Nils Petersen scored his first hat-trick (three goals) in the first ever game he played for FC Bayern Munich against a Trentino Selection. On 10 September 2011, having been on for just 17 minutes, Petersen came close twice, and finally scored his first Bundesliga goal against Freiburg.
Werder Bremen
On 29 June 2012, SV Werder Bremen agreed to a one-year loan deal with Bayern Munich for Petersen. After a successful season on loan at Werder, it was announced on 23 May 2013 that he had penned a four-year contract with the club for an undisclosed fee.
SC Freiburg
After having only earned seven caps and most of them as a substitute during the first half of the 2014–15 season, Petersen was loaned to SC Freiburg for the second leg of the campaign. On 31 January 2015, in his league debut versus Eintracht Frankfurt, he scored a hat-trick, despite just coming on as a substitute for the second half, ultimately helping his team turning a 0–1 deficit into a 4–1 victory. He subsequently made appearances on matchdays 19 and 20. Christian Streich, Freiburg's head coach, stated that Petersen was "an option for the squad." He finished the 2014–15 season by scoring nine goals in 12 matches for Freiburg.