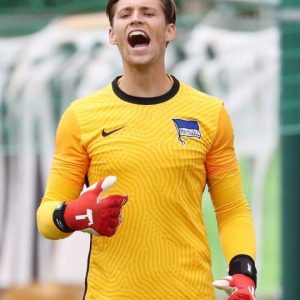 Nils-Jonathan Körber (born 13 November 1996) is a German professional footballer who plays as a goalkeeper for Hertha BSC.
For the 2017/18 season, Körber moved to the 3rd division at Preußen Münster for a year on loan.  There he was first goalkeeper and played 20 third division games. At the beginning of February 2018 he was out due to an injury and was then unable to regain the place in goal against Maximilian Schulze Niehues.
For the 2018/19 season, Körber was awarded to VfL Osnabrück for two years within the 3rd division.  He succeeded his former teammate Marius Gersbeck, who had previously guarded the Osnabrück goal for two years as a Hertha loaner. There he went into the season as the new number 1 under head coach Daniel Thioune after preparation. In the first half of the season he conceded 14 goals against the least in the league. On the 34th matchday, Körber was able to make clear the promotion to the 2nd Bundesliga with the later third division champions.
For the 2019/20 season, the loan was extended by one year. For this purpose, Körber extended his contract with Hertha BSC until June 30, 2021.  After 4 completed games, the regular goalkeeper fell out with a pelvic injury  and was represented by Philipp Kühn. This displaced Körber from his regular place in the goal. After his return, he stood between the posts from the 19th to the 21st matchday to represent the red-banned Kühn. After the guaranteed relegation, Körber was allowed to play the last game of the season, which was also his farewell game in Osnabrück.