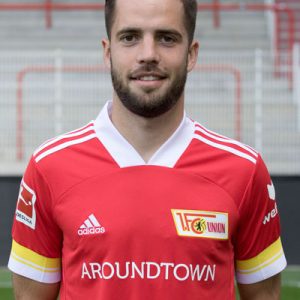 Niko Gießelmann (born 26 September 1991) is a German footballer who plays as a left-back in the Bundesliga for Union Berlin.
Gießelmann played from U17 for Hannover 96. In the summer of 2010 he moved to the club's second team, which plays in the Regionalliga Nord. Here he made his debut on the first day of the 2010/11 season on August 6, 2010 in the 0-1 defeat against SV Wilhelmshaven. Since the 2012/13 season he was part of the Hanoverian professional squad. On September 2, 2012, the second match day of the 2012/13 Bundesliga season, he was in the squad in a 4-0 win over VfL Wolfsburg. Among other things, he was also in the Europa League game against FC Twente Enschede (0-0) in the squad, but was also not used.
For the 2013/14 season Gießelmann moved to the 2nd Bundesliga for SpVgg Greuther Fürth. He made his professional debut on July 21, 2013, the first matchday, in a 2-0 win over Arminia Bielefeld. He scored his first goal on matchday nine in a 4-0 win against Dynamo Dresden, when he came on as a substitute in the 73rd minute and made it 3-0 two minutes later.
As the longest-serving professional at SpVgg Greuther Fürth, Gießelmann decided at the end of the 16/17 season and after four years of membership in the club not to extend his expiring contract. He signed a three-year contract with Fortuna Düsseldorf on June 16, 2017. In the season 17/18 he rose as a regular player in the position of left defender with Fortuna Dusseldorf in the 1st Bundesliga. Gießelmann was also on the left side of defense in the 1st Bundesliga and played 30 league games. At the end of the season there was relegation with Düsseldorf. In the following Bundesliga season 2019/20 he scored his first Bundesliga goal in a 1-1 draw against VfL Wolfsburg on matchday four.
After the contract in Düsseldorf expired, he moved to 1. FC Union Berlin on July 8, 2020.