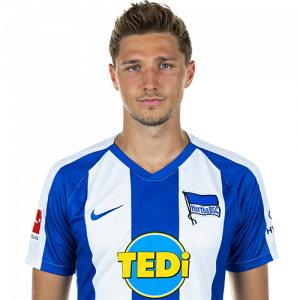 Niklas Stark (born 14 April 1995) is a German professional footballer who plays as a centre back for Hertha BSC.
Club career
Stark made his Bundesliga debut on 27 April 2013 in a 2–1 loss to 1899 Hoffenheim. He made two more appearances for 1. FC Nürnberg in the 2012–13 season. In the 2013–14 season, Stark made appearances for both the first team and second team. He made 21 appearances for the first team and two appearances. He didn't score for either team. Again, during the 2014–15 season, Stark made appearances for both the first and second teams. He scored two goals in 26 appearances for the first team. He failed to score in one appearance for the second team. His final match in a Nürnberg jersey proved to be a 2–1 loss to VfL Bochum on 23 August 2015 as he transferred to Hertha BSC the following day. He had scored a goal in four league appearances for Nürnberg in the 2015–16 season. He had also made a German Cup appearance prior to the transfer.
Stark signed for Hertha BSC on 24 August 2015. Niklas Stark is considered to be the best young centre back in the German Bundesliga by most pundits, which is high praise for the defender. Stark's superb performances for Hertha Berlin, earned him serious interest from giant German club Bayern Munich.
International career
On 15 March 2019, Stark was called up for the German national team for the first time in his career by national team coach Joachim Löw. He made his debut on 19 November 2019 in a Euro 2020 qualifier against Northern Ireland. He substituted Lukas Klostermann in the 65th minute.