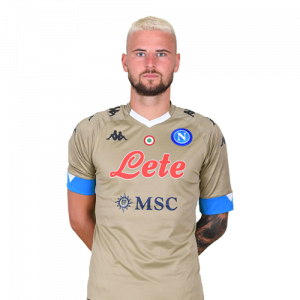 Nikita Baranovsky Contini (born 21 May 1996) is a Ukrainian-born Italian footballer who plays as a goalkeeper. He plays for Serie A side Napoli.
Napoli
Beginnings
Contini was born in Cherkasy, Ukraine to an Italian father Pasquale Contini from Naples, Italy and a Ukrainian mother. When Contini was 3 years old he moved with his family to Giugliano, Campania, Italy. He started his football career at Atletico Giugliano in Italy as a boy, he was brought there by his father at a young age who was a youth coach of Atletico Giugliano, he started playing there at the age of 5 often playing in teams with older boys as he moved up their youth ranks.
In 2007 Napoli played Atletico Giugliano in a friendly and Contini stood out with his great performance and impressed then Napoli juvenile goalkeeping coach Luciano Tarallo. Later that year he went on trials with the Napoli Juvenile team and in 2008 he joined the Juvenile team, things started off very well in his first season at Napoli with excellent displays and going on to get awards for the best goalkeeper in the "Niccolo Galli" youth tournament in Florence and the "Cairo Montenotte" tournament in Savona, Italy, when everything seemed to be going perfect for him a serious knee injury (meniscus tear) following a clash with teammate Gennaro Tutino forced him to miss the remainder of the season.
After being out injured for so long he was slowly brought back into the team by coach Nicola Liguori in the next season, he decided to focus on bringing back Nikita into the team by giving him match time and showing off his talent in the tournament "Beppe-Viola Arco di Trento". Nikita played in all the games in tournament which took the Juvenile team (Azzurrini) all the way to the final against Inter Milan after having saved two penalties in the previous match against Atalanta to get them into the final. Napoli was defeated in the final by Inter Milan but Nikita went on to win an award for best goalkeeper of the tournament.
Napoli Primavera
On 3 April 2013 Nikita Contini made his debut for the Primavera team in a match against Lanciano he came on in the game to replace goalkeeper Crispino and immediately after coming on saved a penalty on his debut. Nikitas form exploded in the 2013/2014 season with experience in Primavera and in the UEFA U-19 Champions League that grew dizzying displays by the goalkeeper of blue and impressed Primavera coach Giampaolo Saurini. An excellent show of performance came in a win in Germany against Borussia Dortmund in the UEFA U-19 Champions League which drew compliments from opponents and applause from the home crowd.
Napoli First Team
His performances with the Primavera team didn't go unnoticed and Nikita was called up by Xavi Valero the goalkeeping coach of the first team, he was summoned for the first time on January 6 against Sampdoria by then first team Manager Rafa Benitez. Experience that will be repeated at the home against Swansea in the Europa league. He got called up numerous times in 2014 and 2015 into the first team squad as a back-up goalkeeper but has yet to make his debut for the first team.
He is still just a boy but a serious professional, a great goalkeeper. And I only hope to see him one day make his debut for the first team (Napoli). .
— Gianluca Grava
Loan to SPAL
In July 2015, Contini moved to Spal on loan from Napoli until the end of the 2015–16 season to get first team experience in the Italian 3rd division.
Loan to Virtus Entella
On 23 July 2019, he joined newly promoted Serie B club Virtus Entella on loan. He started Entella's season opener on 23 August 2019 against Livorno, making his debut in the second tier of Italian football.