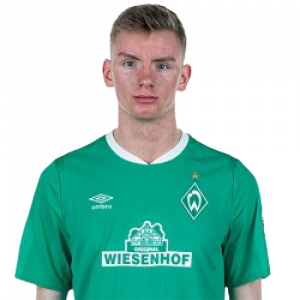 Nick Woltemade (born 14 February 2002) is a German professional footballer who plays as a forward or attacking midfielder for Werder Bremen. He has represented Germany internationally at U-16 and U-17 youth levels.
Club career
Woltemade joined Werder Bremen in 2010 from TS Woltmershausen. In the 2018–19 season he scored 18 goals and made 8 assists in 24 matches for Werder Bremen's U17 team in the U17 Bundesliga.
Having scored 7 goals in 8 matches for the U19 side Woltemade was first called up to the first-team squad for a Bundesliga match against Bayer Leverkusen on 11 January 2020. On 1 February 2020, he made his professional debut in a 2–1 league defeat away to FC Augsburg, becoming the youngest Bundesliga player in Werder Bremen's history at 17 years, 11 months, and 16 days.