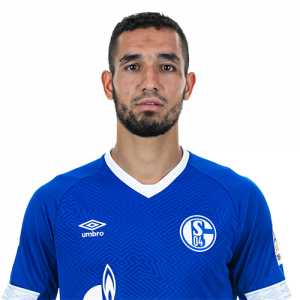 Nabil Bentaleb (born 24 November 1994) is a professional footballer as a midfielder who plays for Bundesliga club Schalke 04 and the Algeria national team.
Bentaleb made his senior international debut in March 2014 and has represented Algeria at the 2014 FIFA World Cup and the 2015 and 2017 Africa Cup of Nations.
Schalke 04
On 25 August 2016, Bentaleb joined Bundesliga side Schalke 04 on a season-long loan deal. He went on to make his debut in an away match against Frankfurt two days later, which Schalke lost 1–0. His first start came the next weekend against Bayern, after which Bentaleb became a fixture in new manager Markus Weinzierl's starting eleven. Enduring Schalke's worst ever start to a Bundesliga with five consecutive losses, Bentaleb confirmed his desire to remain in Gelsenkirchen, saying that "at Schalke they believe in me", while also appreciating the fans' ability to stick beside a team going through a rough patch in comparison to English fans.
On 15 October, Bentaleb came through with his first goal for Schalke, a strike from distance that put them temporarily ahead of Augsburg in a 1–1 draw. This was the first goal reviewed by goal-line technology in the Bundesliga to be successfully allowed. In Schalke's next match, he scored twice against Mainz in a 3–0 victory, becoming the first Algerian to achieve the feat in Bundesliga play. Immediately after the match, a report emerged claiming that Bentaleb had already signed a four-year contract to remain with Schalke, which would go in effect after a permanent buying option in his loan deal was picked up, putting his future at White Hart Lane in question.
On 24 February 2017, Tottenham Hotspur announced that they had reached an agreement with Schalke 04 for Bentaleb's transfer to be made permanent at the end of the loan period.
In March 2019 he was demoted to Schalke's under-23 team, "due to disciplinary reasons". He returned to the first-team in April 2019, before being dropped to the second team again later that month.