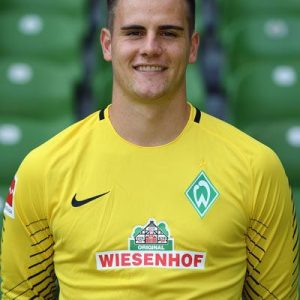 Michael Zetterer (born 12 July 1995) is a German professional footballer who plays as a goalkeeper for Bundesliga club SV Werder Bremen.
Werder Bremen
In January 2015, Zetterer moved to Bundesliga side Werder Bremen. According to media reports, he signed a contract until 2018 and cost a transfer fee of €100,000. He took up the role of second reserve keeper behind Raphael Wolf and Koen Casteels. In the second half of the 2014–2015 season, Zetterer had seven appearances with Werder Bremen's reserve team contributing to its promotion from the fourth tier Regionalliga to the 3. Liga.
With Wolf injured Zetterer was second goalkeeper of the first team for most of the first half of the 2015–2016 season. He made his first appearance of the season in the reserve team's 3–2 defeat of Chemnitzer FC on 1 November 2015.
Zetterer was largely kept out of action by two scaphoid fractures he suffered in 2015 and 2016, and resulting complications made a further surgery necessary in November 2017. In July 2018, he agreed a contract extension until 2019 with Werder Bremen.
In February 2019, he joined Austria Klagenfurt on loan.
In June, Zetterer agreed a "long-term" extension with Werder Bremen and a two-year loan move to Eredivisie side PEC Zwolle.
Zetterer's loan to PEC Zwolle was cut short and he again extended his contract in January 2021, after Werder Bremen agreed to loan out Stefanos Kapino.