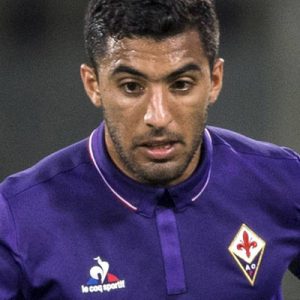 Maximiliano Martín Olivera de Andrea (born 5 March 1992) is a Uruguayan footballer who currently plays as a defender for Italian club Fiorentina.
Maxi Oliver joined the Montevideo Wanderers Children's School at the age of 12. On a professional level, he began his career in 2010 with his hometown club. Gradually, especially since the third season, Oliver has become a solid player in the base of the "Wanderers". In the 2013/14 season, Maxi helped his team win Klausura, but in the title matches the Wanderers lost to Danubio, becoming vice-champions of the country.  Maxi played for Montevideo Wanderers for another season and a half. On February 4, 2016, he became a Peñarol player.
For the remainder of the 2015/16 championship, Oliver played in 13 Clausura appearances as well as the final for the title. In it "Peñarol" as the winner of Apertura played with the winner of Clausura "Plasa Colony" and won in extra time. The main time ended 1: 1. Maxi Oliver scored the "golden goal" at his own expense, hitting the rivals' goal in the 109th minute. Two minutes later, the final score 3: 1 was set by Mauricio Affonso. Thus, Oliver became the champion of Uruguay for the first time, and Penarol helped to win their 50th title of the winners of the national championship.