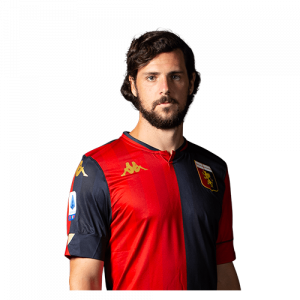 Mattia Destro (born 20 March 1991) is an Italian professional footballer who plays as a striker for Serie A club Genoa. He has also featured at international level, currently holding thirty six caps for Italy.
Youth career
Destro began his career with hometown club Ascoli. In the 2004–05 season, he played in the Giovanissimi Nazionali squad, while his father Flavio was coaching the Allievi Nazionali team. In mid-2005, he joined Internazionale's youth system.
Genoa
In June 2010, La Gazzetta dello Sport reported that Internazionale agreed a deal with Genoa to sign centre-back Andrea Ranocchia and that Destro was part of the exchange deal. The transfer became official on 20 July 2010, when Genoa purchased a preferential option to sign Destro in a co-ownership deal in June 2010.
Siena
In 2011, Destro left for Serie A newcomers Siena on loan for €1.5 million with an option for a co-ownership deal.
Roma
On 30 July 2012, Roma announced they had signed Destro from Genoa in a loan deal for €11.5 million (€8.5 million cash plus half of the rights to both Giammario Piscitella and Valerio Verre) with the option to purchase him outright for an additional €4.5 million (which meant Destro would cost Roma €16 million in total if the purchase was completed). Destro would replace the Liverpool-bound striker Fabio Borini, whom Roma just sold for €13.3 million.
Milan
On 30 January 2015, Destro moved to Milan on loan from Roma. He scored his first Milan goal in a 1–1 draw with Empoli on 15 February. He left the club at the end of the 2014–15 season, having scored 3 goals in 15 matches.
Bologna
On 20 August 2015, Bologna signed Destro from Roma for €8.5 million plus bonuses up to €3 million, on a five-year deal. Destro was the highest earning player of Bologna that season with a net salary of €1.6 million. He made his debut on 22 August 2015, coming on as a substitute in the 2–1 defeat to Lazio. He scored his first goal in a 3–0 win over Atalanta on 1 November. Destro signed a new contract worth €2 million per year.
Genoa return
On 4 January 2020, Destro agreed a return to Genoa, on loan until the end of the season. On 7 September 2020, he signed a permanent contract with the club on a free transfer.