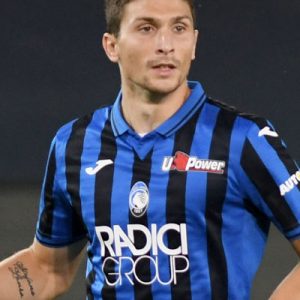 Mattia Caldara (born 5 May 1994) is an Italian professional footballer who plays as a centre back for Serie A club Atalanta, on loan from Milan, and the Italy national team.
Return to Atalanta
On 12 January 2020, it was announced that Caldara had joined Atalanta on loan from Milan until June 2021, with the option to buy for an undisclosed price. Three days later, he made his second post-return debut for Atalanta, playing for 77 minutes in a 1–0 away Coppa Italia loss against Fiorentina. On 19 February 2020, Caldara made his UEFA Champions League debut, playing for 75 minutes as a starter in a 4–1 home win against Valencia at the San Siro.
Caldara is a tall and physically strong center back contributing defensively and offensively. Although capable of playing in a back four, he is most comfortable and confident in the middle of a back three, such as in 3–4–3 or 3–5–2 formations. At Atalanta, while playing under coach Gian Piero Gasperini, he was allowed to make occasional forward runs during the attacking play and be present at all set pieces, which helped him score 10 goals in just two seasons. Courtesy of his imposing physique, he finds himself at ease in areal duels and headers. Tactically, Caldara has cited Alessandro Nesta as the biggest inspiration, in tribute of whom he had chosen 13 as his shirt number multiple times.