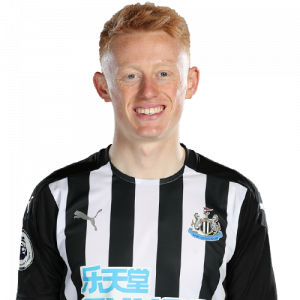 Matthew Ben Longstaff (born 21 March 2000) is an English professional footballer who plays as a midfielder for Premier League club Newcastle United.
Longstaff made his first-team debut for Newcastle United on 28 August 2019, starting against Leicester City in the EFL Cup. He scored in the 72nd minute of his Premier League debut, in a 1–0 win against Manchester United on 6 October. That stunning strike outside the box was later voted as Premier League Goal of the Month as well. He then went on to score in the reverse fixture at Old Trafford, the opening goal in a 4–1 defeat.
Following the expiration of his contract at the end of the 2019-20 season, Longstaff signed a new two-year contract with Newcastle United on 22 August 2020.
On 8 November 2019, Longstaff received his first international call up to the England U20 side. He made his debut as a substitute during a 4–0 win over Portugal on 14 November 2019.