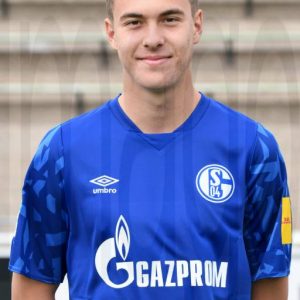 Matthew Hoppe (born March 13, 2001) is an American professional soccer player who plays as a forward for Bundesliga club Schalke 04.
Career
Hoppe played a single season with the LA Galaxy academy, before been released by the team. After playing for the Barça Residency Academy in Arizona, Hoppe signed with Schalke 04 in June 2019.
On November 28, 2020, he made his professional debut for Schalke against Borussia Mönchengladbach in the Bundesliga. On January 9, 2021, he scored a hat-trick, and his first senior goals for Schalke, in a league match against Hoffenheim. Hoppe became the first American to score a hat-trick in the Bundesliga and the 4–0 result also meant that the club ended their 30 game winless streak in the league.
Hoppe signed his first professional deal at Schalke on February 1, 2021, keeping him at the club until 2023.
Personal life
Hoppe is the son of Tom and Anna Hoppe. He has one brother and one sister. Hoppe is a Christian.