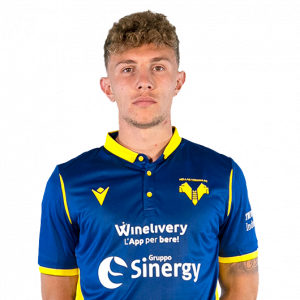 Matteo Lovato (born 14 February 2000) is an Italian professional footballer who plays as a defender for Serie A club Hellas Verona.
He grew up in the Padua nursery, moving to the Genoa youth sector at the age of 16. With the rossoblù team he participated in the Under-17 championship, totaling 18 appearances also enhanced by two goals, until, in January 2018, he returned on loan to Padua, having not found space in the Genoa spring.
In the 2019-20 season he was included in the first team of Padova, led by Salvatore Sullo. He made his debut among professionals and in Serie C on August 25, 2019, at the age of 19, playing the starter in the match of the first day of the championship won 3-1 away against Virtus Verona. He immediately became a starter and made 17 league appearances until mid-season.
Verona
On 31 January 2020 he was bought outright by Verona, with whom he made his Serie A debut on the following 18 July, on matchday 34, replacing Günter in the final match played at home against Atalanta (1-1).
National
On 2 October 2020 he is called up for the first time in the Under-21 national team by the coach Paolo Nicolato; however, a few days later he had to give up the call due to an injury. He made his Under-21 debut on November 12th, playing in the match valid for qualifying for the European championship in the category, won 2-1 against Iceland away to Reykjavík.