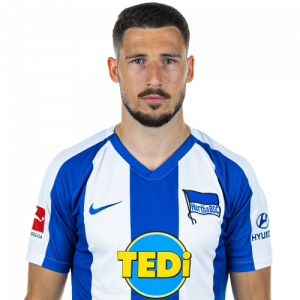 Mathew Allan Leckie (born 4 February 1991) is an Australian footballer who plays for Hertha BSC in the Bundesliga and the Australian national team. Leckie, being a quick and agile player, is usually placed on the wing. However, he has previously been deployed as a midfielder, striker/second striker and even as a wing-back.
On 22 May 2017, it was announced that Leckie had signed for Hertha BSC for the 2017–18 season. He began his spell positively, appearing in many pre-season matches and assisting two goals in his first competitive appearance for the club in the first round of the DFB Pokal against Hansa Rostock. Leckie scored two goals on his debut for Hertha BSC on matchday one of the 2017–18 Bundesliga season against VfB Stuttgart in a 2–0 home victory. After the game Leckie said: "It's probably one of the best weeks of my life, so I'm definitely a happy guy at the moment."
Leckie scored his first European goal in a 3–2 away defeat to Athletic Bilbao in the 2017–18 Europa League on 23 November 2017.
Since the 2019–20 season, Leckie has played a combined total of thirteen matches in all competitions for Hertha (excluding his one appearance for Hertha BSC II in Regionalliga Nordost [IV]), compared to his forty-eight in the previous two. Leckie has also scored zero goals in the latter two seasons and eight in the former. It was reported in early 2020 that Leckie wanted to leave Hertha BSC, with Leckie stating: "[I'll] do everything I can to leave," adding that "I wanted to leave [before this season] and I had the feeling a lot would change." In May 2020, Leckie decided to stay with Hertha BSC for another season when he stated on the Fox Football Podcast, "…so for family reasons I decided to stay here for another season."